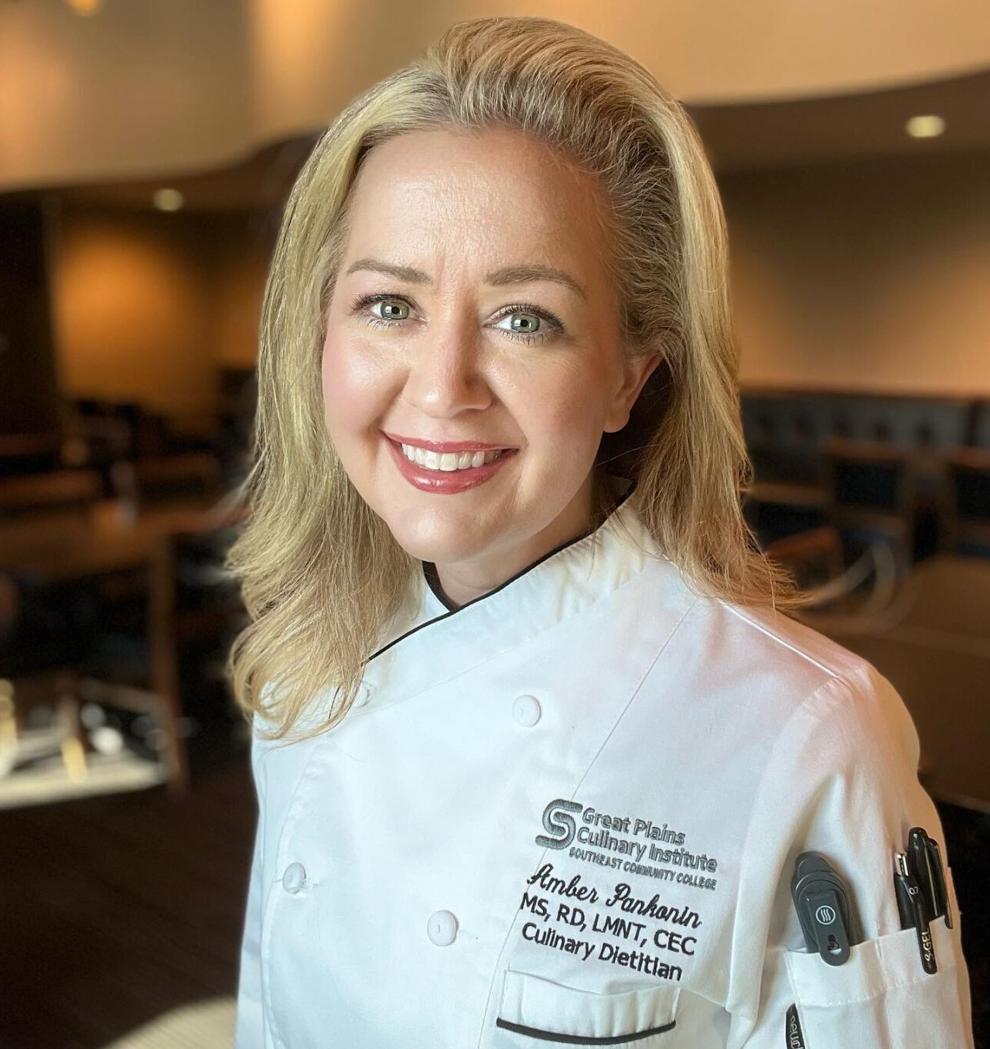 As registered dietitian and executive chef Amber Pankonin knows, adding pork to a plate increases nutritional opportunities. In fact, Pankonin likes to refer to pork as a superfood. The Nebraska native, who describes herself as someone "one generation from the farm" took time out of her busy schedule to talk about the benefits of pork. 
Where did your appreciation and love for meat come from?
AP: My family's background is probably a bit different from most in that my grandparents owned and operated a farm. So, the conversations we had around the dinner table were from a very different perspective. Instead of my parents telling me to eat everything on my plate, I got the speech that we should appreciate what's on our plate because farmers work hard to produce that food. We were encouraged to appreciate and understand from an agricultural standpoint how that food got to our plate. Those were the conversations that inspired me to do what I do now — not just to talk about food nutrition but to help consumers understand where those foods come from. And while my grandparent's farm was eventually sold, the lessons shared by my grandparents live on in me through my professional life.
Do we really need pork in our diets?
AP: There is definitely a place for meat, and especially pork, on the plate. The varied cuts, the numerous ways to prep and cook it helps bring a level of nutrition and excitement to our meals. I just love its versatility and the ways it can enhance a menu. But, most importantly, pork provides us with the valuable nutrients required for maintaining an active lifestyle at home and on the job.
What is the nutritional value of pork?
AP: In addition to being such a great source of quality protein — and providing all nine essential amino acids — pork also includes vitamins and minerals that are really important for growth and development, especially in children. Every 3-ounce serving provides 22 grams of protein. Together, these nutrients are really important in supporting immune health, overall health and wellness, and weight management when consumed in moderation. Most importantly, pork is typically lowest in calories and saturated fat when compared with other red meats. And even processed pork, such as cured ham and bacon, not only add such incredible flavor to so many foods, but they make us feel fuller longer.  
More specifically, what are some of the vitamins and minerals in pork?
AP: Pork serves as an incredible source of iron, protein, niacin, vitamins B6 and B12, zinc, phosphorus, selenium and thiamin, potassium, magnesium and riboflavin. In fact, both pork tenderloin and pork sirloin satisfy the American Heart Association's Heart Checkmark standard of being less than 5 grams of fat, less than 2 grams of saturated fat and less than 480 milligrams of sodium per 3-ounce serving. Bottom line, pork packs an incredible health punch.
What works well paired with pork?
AP: Along with lean animal protein, such as pork, we should be personalizing our plates with a variety of foods including fruits and vegetables, whole grains and low-fat dairy. Brussels sprouts, rice and steamed veggies are my go-to favorite pairings, not only because of their nutritional value, but because they are so filling.
How should pork be cooked?
AP: The options are deliciously varied and that's the beauty of pork. Whether prepared as a main dish, on a sandwich, in a stew or soup, pork can be cooked in an air fryer, pressure cooker, oven or slow cooker, on a stove or grill. The meat itself can be marinated, sauteed, smoked, broiled, slow-cooked, roasted and stewed. Don't forget, 145°F with a 3-minute rest provides the optimal eating experience and the minimum safe internal cooking temperature.
What kind of cuts of meat can you expect with pork?
AP: There's a pork cut that can satisfy all members of the family. Just as there are numerous ways to prepare pork, there are multiple cuts that include everything from bacon, pork belly, ribs and tenderloin, to ground pork, steak, chops and shoulder, and more. Foodie's choice.
Where do I start in terms of selecting a certain cut or recipe?
AP: Don't be intimidated by pork. Butchers are a wealth of knowledge when it comes to selecting, prepping and preparing meat. Take advantage of their expertise and ask for their recommendations on the various cuts and affordable options. They are there to help you.
For more information on how to include pork at the table, please visit pork.org.
---
This content was produced by Brand Ave. Studios. The news and editorial departments had no role in its creation or display. Brand Ave. Studios connects advertisers with a targeted audience through compelling content programs, from concept to production and distribution. For more information contact sales@brandavestudios.com.