SPRINGFIELD, Mass. — Dirk Nowitzki, Tony Parker and Pau Gasol brought a European flavor to the Basketball Hall of Fame enshrinement.
Fans waved a German flag and chanted Nowitzki's name when the former Dallas Mavericks star walked the red carpet into Symphony Hall on Saturday night for the ceremony.
Parker's fans whooped it up when he took the stage to lead off the proceedings. "There are a lot of French people in town. Sorry," the former San Antonio Spurs point guard said.
Spain was well-represented, too, with Gasol shouting out his national team — "mi familia" — before joining what may be the greatest international class of inductees in the Springfield shrine's history.
Nowitzki was the first European-born player to win the NBA MVP award in 2007. Parker was the first European to win the finals MVP. Gasol was the NBA's first international rookie of the year and a key player during title runs for the Los Angeles Lakers.
Gasol acknowledged the Europeans who came to the U.S. before him, but also credited Americans for inspiring him. He fell in love with the sport when the 1992 Olympics were held in his hometown, Barcelona. The United States dominated and won the gold.
"I was 12," Gasol said. "It changed my life. The Dream Team showed us how basketball could be played."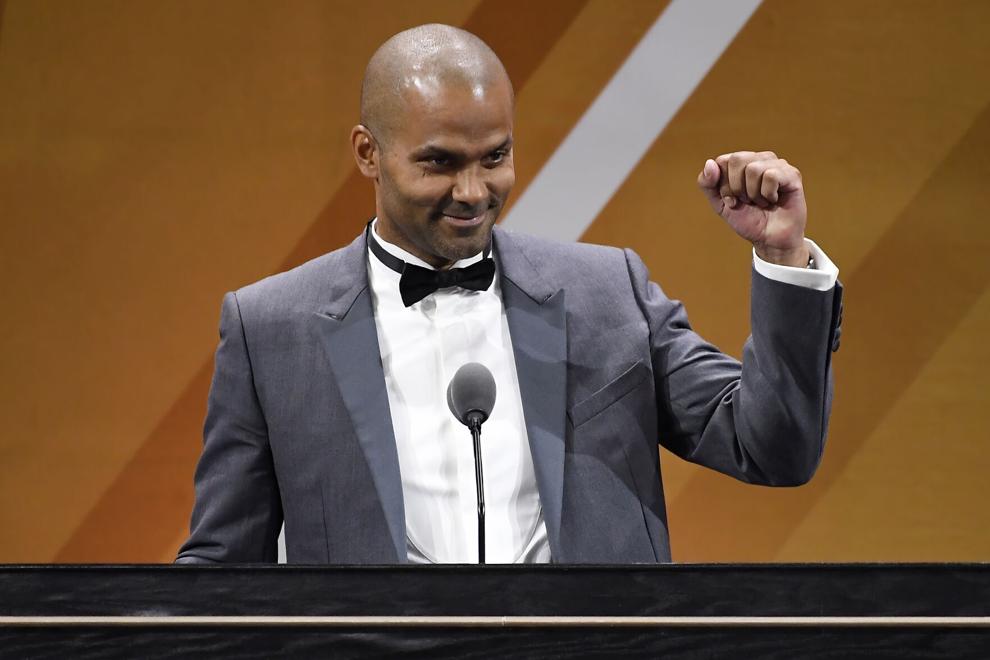 The Spurs were well represented, led by longtime coach and five-time NBA champion Gregg Popovich, and Parker, the point guard on four of those title-winning teams. Becky Hammon, who after a career in the WNBA joined the Spurs as the first woman to serve as a full-time NBA assistant coach, was also honored. Gasol played his last two healthy seasons with the Spurs.
"Coach Pop — it starts with him," Parker said. "Coach Pop, you're unbelievable."
Others enshrined include Dwyane Wade — a key piece of three NBA championship teams in Miami — and former North Carolina State coach Jim Valvano, who led the Wolfpack to the 1983 NCAA title and went on to be a broadcaster and advocate for cancer research. Valvano was inducted posthumously.
Rounding out the class were the silver medal-winning 1976 U.S. Olympic women's basketball team; former Purdue coach Gene Keady, a seven-time Big Ten coach of the year; former Texas A&M women's coach Gary Blair, who took two teams to the Final Four; longtime coach at Amherst and two-time Division III national champion David Hixon; and Gene Bess — who won 1,300 games as a junior college coach at Three Rivers Community College in Poplar Bluff, Missouri.
The inductees received their Hall of Fame rings and jackets on Friday at a news conference, which Hammon missed because the Aces had a game in Las Vegas that night.
Undrafted by the WNBA, Hammon went on to be a six-time All-Star before joining Popovich in San Antonio. She coached the Aces to a WNBA championship last season.
Gasol thanked the late Kobe Bryant, his teammate on two NBA championship teams, who died in a 2020 helicopter crash along with his daughter, Gigi.
"I wouldn't be here without you, brother," Gasol said. "I wish more than anything that you and Gigi were here today with us. I miss you and love you."
Like Gasol, Parker was won over by the 1992 Summer Olympics, when the Hall of Famer-laden Americans drubbed the French national by 50 points. But when it came time to play in the European championships, Gasol and Spain were often in the way.
"Sometimes I wish Pau Gasol was not born," Parker quipped.