MEMPHIS, Tenn. — Jordan Spieth kept a clean card and clean pants, even without having to roll them up to his calves on a rain-soaked course. He opened with a 7-under 63 on Thursday for a one-shot lead in the FedEx St. Jude Championship.
Spieth chipped in for eagle and made a key par putt on the 17th to take his first 18-hole lead on the PGA Tour since the Sony Open in January. He missed the cut the next day in Honolulu. That won't be possible at the TPC Southwind — the 70-player field has no cut.
The start to the PGA Tour postseason was sloppy one. Storms dumped 2 inches of rain in the early morning that caused a delay of just over two hours and players sent off on both sides. The greens were soft but fast. The TPC Southwind was soggy and muddy.
It was not the best day to be wearing white pants.
Tom Kim, who knows a little about mud, probably should have known better. He decided to roll up his pants to make them look like capris. He was briefly tied with Spieth until a late bogey sent him to a 64.
"I didn't want to get myself dirty," Kim said. "Just don't like it. I've had a really bad week once this year, so just trying to stay away from it, really."
It was more like one bad day at Oak Hill for the PGA Championship. He went into a marshy area to look for his tee shot, slipped and emerged with his shirt and pants covered in mud.
Kim is packing light for the three-week stretch of FedEx Cup playoffs.
"I had to make sure I was able to use those pants for a really long time, so I had to make sure they stayed really clean," he said.
Collin Morikawa had six birdies for a 65 to join Emiliano Grillo two shots behind. That's $6,000 for relief efforts from the Hawaii wildfires — he has pledged $1,000 per birdie during the playoffs. Morikawa's grandparents were born in Lahaina and once had a restaurant on Front Street, which closed many years ago.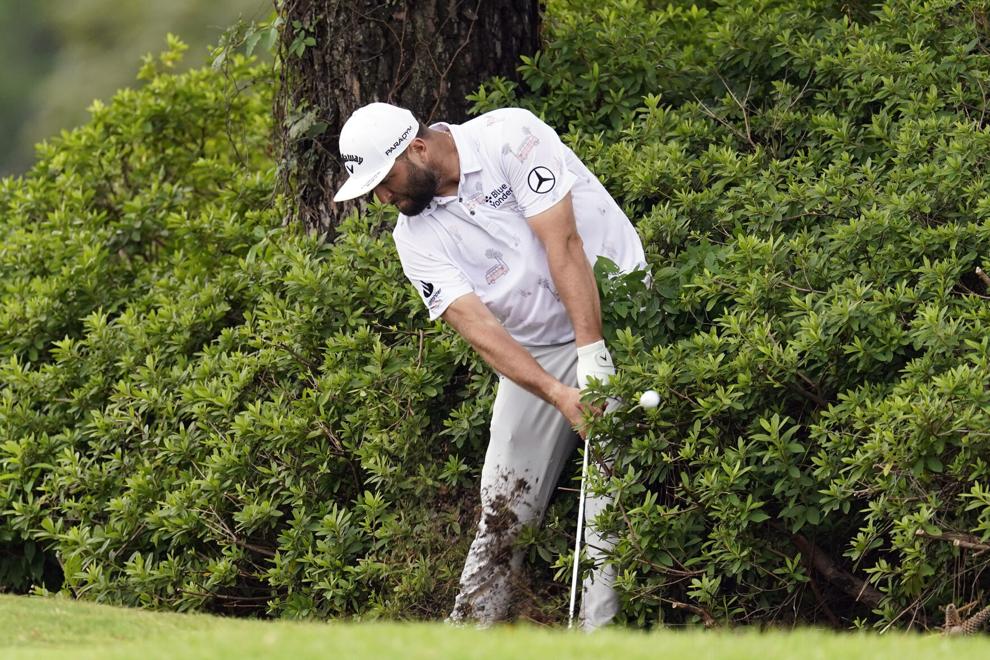 Jon Rahm had dirty pants and a scorecard to match. The No. 1 seed in the chase for the $18 million FedEx Cup bonus, he was going along fine until hitting his tee shot out-of-bounds on the par-5 16th hole and had to salvage a bogey. Two holes later, he drove into the water and nearly found the water again on his third shot at the 18th. That was a double bogey.
His front nine — Rahm started on No. 10 — wasn't much better with three bogeys that led to a 73. He ended with a three-putt bogey.
Rahm played alongside the next two top seeds, Scottie Scheffler and Rory McIlroy, each posting a 67. Scheffler was 2 over early and responded with six birdies over his last 12 holes.
"It's frustrating obviously when you see everybody is making birdies and you're 2 over through four or five holes," Scheffler said. "It was frustrating, but hung in there nicely and played some really good golf after that."
McIlroy was disappointed he wasn't lower the way he hit it off the tee, critical on a day when players could lift, clean and replace their golf balls from the short grass.
"I don't know if I can remember a round where I've driven it that well, at least in recent memory," McIlroy said. "I drove it really well today and gave myself so many looks from the fairway. Sort of walking off the course disappointed with 3 under."
Spieth was good from start to finish. He had three birdies through five holes, had a few important par-saving putts and then saved his best for a chip-in for eagle on the 16th.
"The pivotal holes where you get wedge in your hand, if you hit a nice drive, you're looking to attack," Spieth said. "I did hit the fairways on those holes, and that was important. Then the really hard ones, you're just trying to get it on the surface and tap in for par."
Spieth is at No. 31 in the FedEx Cup, guaranteed to be among the top 50 from the 70-man field who advance to the BMW Championship next week. That assures players a spot in eight $20 million signature tournaments next year.
The ultimate goal is top 30 to reach the Tour Championship, so this becomes an important week for Spieth to get himself high enough in the standings.
Lucas Glover was at No. 112 until winning the Wyndham Championship last week, moving to No. 49. With that shot of confidence, he opened with a 66. Glover has never been a fan of the FedEx Cup playoffs or the points system. So he's trying to keep it as simple as possible.
"I think the state of my game, if I take care of me, I'm going to be there," he said. "That's how I like it — it's up to me. I'm not going to pull for or against the guy in 50th or 51st or whatever. I feel like if do my job, I'll be in Chicago next week. I think that's probably how it should be."