CHARLOTTESVILLE, Va. — Virginia running back Mike Hollins knows he will never be the same, and admits that the position of football on his priorities list "has shrunk." He still can't wait to run onto the field with his Cavaliers brothers for their opener this season.
"I can only imagine the emotions that'll be flowing through my body. I just -- I literally can't. I have no words because the spring game hit me like a sack of rocks, and I didn't expect it at all, so I can only imagine," he said. "I'm ready, though. I'm ready for it."
Hollins, from Baton Rouge, Louisiana, was one of two survivors of a shooting last November that left three teammates dead. He was shot in the back, needed several surgeries and spent a week in the hospital before beginning a long rehabilitation.
The shootings, which also left student Marlee Morgan injured, rocked the team and the community and caused the Cavaliers to cancel their final two games.
Hollins uplifted his teammates when he returned for spring practices four months later, even though he wasn't cleared for full contact yet. That came about midway through the 15 sessions, and he scored on a 1-yard touchdown run in the spring game.
On that day, Hollins said, "I just felt free from my mind," and all the horror planted there that November night. "I mean, it was a lot easier just to play ball."
He celebrated the touchdown by placing the ball on the name of D'Sean Perry, painted in the end zone along with those of Lavel Davis Jr. and Devin Chandler, those killed on a school bus returning from a field trip to Washington, D.C. A former Virginia player, Christopher Jones Jr., is accused of the shootings and awaiting trial.
Throughout his recovery, which he admits is more complete physically than mentally, Hollins "has been a superhero," roommate and fellow running back Perris Jones said. "Experiencing what he experienced and carrying himself with as much grace and perseverance as he does is inspirational to see day in and day out. His spirit is truly unbroken, and he embodies that every day."
Jones and his teammates aren't the only ones benefitting from Hollins' return.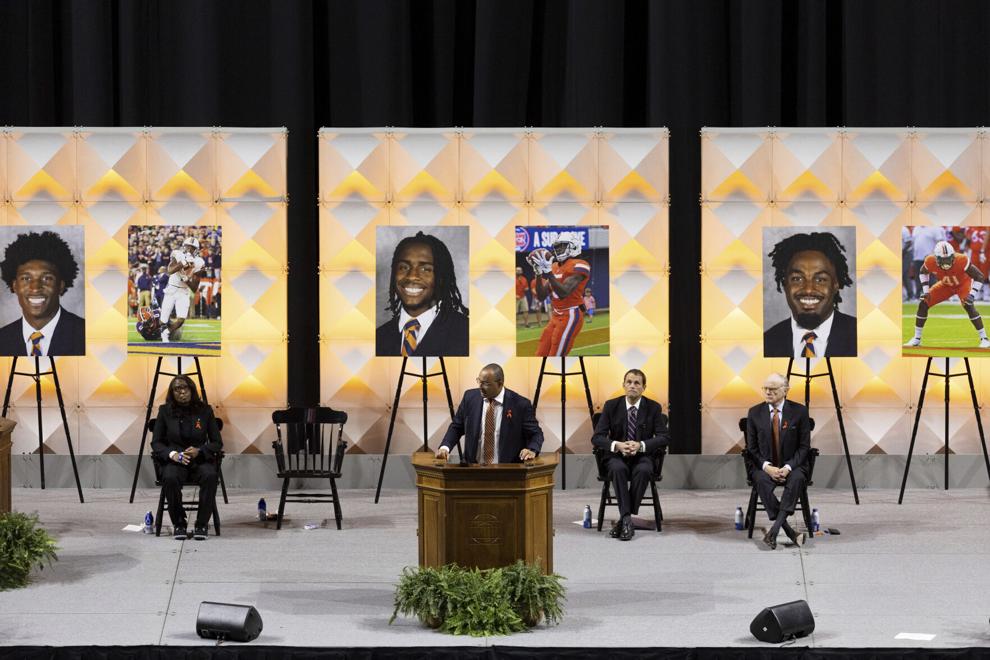 "He's been a big-time inspiration. He's been an inspiration for me, you know, on the strength of that young man to come back out and play," defensive line coach Chris Slade said. "And he came back in the spring, and that's big."
Hollins knows no one would have questioned him, or any of last year's team, had they decided not to play again or to move to another school. He also knows to keep things in perspective as they play to honor their fallen teammates.
"Us being here and being able to play again and touch the field and just come together as a team is doing that legacy justice in itself. We don't have to go out and try to ... go undefeated or win a championship," he said.
That desire to honor their teammates has been cited by several players that decided to return, including defensive lineman Chico Bennett and Perris Jones.
"It's a shame it has to happen in this way," Bennett said, "but now that we're given a platform, we're going to make the most of it. I look forward to being able to do that and honoring them through our play and doing that to the best of our ability."
Said Jones: "I have a debt to pay to those guys, and I plan to pay it."
When Hollins suits up for Virginia's game against Tennessee in Nashville on Sept. 2, he said, he will be "carrying something with me."
"It'll always weigh on you," he said. "There will never be a day where you won't remember it or feel something missing from your heart when thinking about it."
Getting back on the field, though, sure might help.