ORCHARD PARK, N.Y. — Damar Hamlin reached another major milestone in his return to football by suiting up for Buffalo's preseason opener against the Indianapolis Colts on Saturday.
It didn't take very long for the Bills safety to make an impact in his first appearance in a competitive setting since going into cardiac arrest and needing to be resuscitated on the field during a game at Cincinnati on Jan. 2.
On his fourth defensive snap, Hamlin crashed the line and brought down running back Evan Hull for no gain in preventing the Colts from converting a fourth-and-1 at the Buffalo 40. Hamlin was initially credited with an assist on the tackle, before being awarded a solo tackle in a game the Bills went on to win 23-19.
On Buffalo's next defensive series, Hamlin made tackles on back-to-back plays, with a cheer going up from the crowd each time his name was mentioned.
Hamlin was part of Buffalo's kickoff coverage unit following James Cook's 8-yard TD run 3:22 into the game.
Overall, Hamlin appeared in two-plus defensive series overlapping the first and second quarters, and was credited with three tackles. He spent the second half watching from the sideline in his pads while wearing running shoes.
What seemed unfathomable in those frightening first moments, and the nine-day stay in two hospitals that followed, has approached reality for the 25-year-old Hamlin, who announced in April that he planned to resume his playing career after being medically cleared to return.
Since then, the Bills have eased Hamlin back on the field, starting with him taking part in individual drills in May, followed by team drills a week later. Two weeks ago, the third-year safety took another major step by experiencing his first thud of a hit in the Bills' first full-padded practice of training camp.
"I made the choice to play. But I'm processing a thousand emotions. I'm not afraid to say that it crosses my mind of being a little scared here and there," Hamlin said at the time. "My faith is stronger than any fear. That's what I want to preach up here. And that's the message I want to spread on to the world that as long as your faith is stronger than your fear, you can get through anything."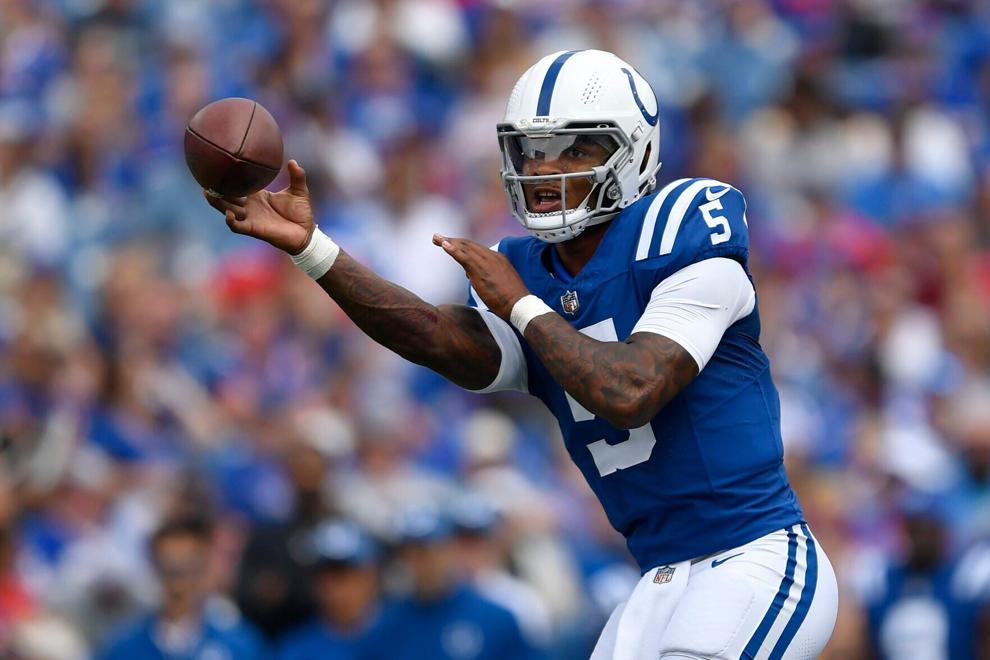 SATURDAY'S GAMES
BULLS 23, COLTS 19: Rookie quarterback Anthony Richardson threw an interception and was unable to generate much offense with his legs either during Indianapolis' preseason-opening loss to host Buffalo in an outing decided by the third-stringers. Richardson, the No. 4 draft pick out of Florida and third quarterback selected in the draft, failed to quell questions about his accuracy over 13 college starts. He finished 7 of 12 for 67 yards and an interception and two carries for 7 yards.
BEARS 23, TITANS 17: Justin Fields threw touchdown passes to prized newcomer DJ Moore and Khalil Herbert on Chicago's first two possessions, then watched as the Bears beat visiting Tennessee in the preseason opener for both teams. Moore and Herbert turned short passes into sprints to the end zone against a second-string defense after the Titans' Malik Willis led Tennessee on a 75-yard touchdown drive to start the game. Fields completed all three of his passes for 129 yards. Willis completed 16 of 25 passes for 189 yards.
JETS 27, PANTHERS 0: Bryce Young was 4 of 6 passing for 21 yards in his NFL preseason debut as Carolina lost to visiting New York. The No. 1 overall pick in the NFL draft played three series and the Panthers picked up just one first down with the 2021 Heisman Trophy winner under center against a Jets defense that rested its starters. Young didn't get much help from his offensive line as he was hit on three of his seven drop backs. Aaron Rodgers did not play for the Jets. Zach Wilson finished 14 of 20 for 123 yards and a TD.
JAGUARS 28, COWBOYS 23: Calvin Ridley had two catches in his first game in nearly two years, and Trevor Lawrence responded to an interception with a touchdown pass in Jacksonville's preseason win over host Dallas. Playing against mostly Dallas backup defenders, Ridley had a short catch on the Jaguars' second series, then a first-down grab on the third possession before Lawrence's scoring toss to Christian Kirk. Lawrence was 5 of 6 for 36 yards, 21 of them going to Ridley.
RAVENS 20, EAGLES 19: Justin Tucker kicked a 60-yard field goal to end the first half, Tyler Huntley threw a touchdown pass early in the third quarter, and Baltimore beat visiting Philadelphia to extended its record streak of preseason victories to 24. The Ravens led 20-13 when Anthony Brown's pass was intercepted by Eli Ricks and returned 31 yards for a touchdown with 7:03 to play. Lamar Jackson and Jalen Hurts both sat out this game.
AROUND THE LEAGUE
BROWNS: For the second straight year, linebacker Jacob Phillips has suffered a season-ending pectoral injury. Coach Kevin Stefanski said Phillips tore the muscle during Friday night's loss to Washington. Phillips, a third-round pick in 2020 from LSU, sustained a similar injury during the 2022 regular season against Baltimore. Stefanski said the latest injury is on the opposite side from last season.
In other news from Cleveland's camp, the team's confidence in Cade York could be fluttering. The second-year kicker, who struggled for much of his rookie season, missed his second field-goal attempt of the preseason Friday night in a loss to Washington. York pushed a 46-yard attempt in the third quarter to the right, a miss similar to one from 49 yards last week in the Hall of Fame game.
GIANTS: If anything came out of the team's first preseason game, New York found out quickly the draft picks they were counting on are ready for prime time. Cornerback Deonte Banks, center John-Michael Schmitz — the Giants' top two picks — and cornerback Tre Hawkins all showed flashes in a loss to Detroit. Giants coach Brian Daboll said Saturday the game contained the usual good and bad typically seen in an opening preseason game. He liked the way his team competed, adding the mistakes have to be cleaned up.